I've received several messages from Summerfield North residents via the comment form on this site (rather than via my email address available on the Raleigh web site), so I'm assuming I'm getting some traffic from internal neighborhood communications. I'm copy/pasting (with some paraphrasing) an email that I sent to one of your neighbors in hopes that it may answer some questions for those of you new to the discussion.
A bit of background about me: I'm a father of 2 children (5 and 8). We're an active family and spend a lot of time outdoors at parks, hiking trails and riding bikes on the greenways. My son has learned to ride his bike on the greenway and we currently ride as a family as far as 15 miles piecing together the connections of some of the east-to-west greenway routes. I've started blogging about local parks as I visit them with my family – my blog is at http://gettoknowapark.org/. We live near your neighborhood and would likely use the parking at Honeycutt Creek park as our starting point for family rides.
Since you mention that you haven't been to any of the meetings thus far, I want to make sure you're aware of some things that may or may not have been mentioned in the communications you've received from your neighbors. As a worst-case scenario, routing the proposed greenway through your neighborhood would mean a wider sidewalk in some places. The mock-ups I've seen look pretty nice and the new sidewalks would be built within the easement that the city already owns along the side of city roads. The reason they make the sidewalks so wide is to make it safe for two bicycles to pass, or give a pedestrian a safe buffer from a passing bike.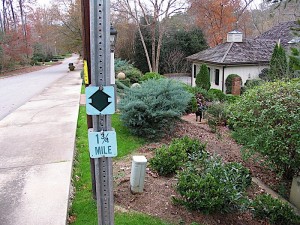 My understanding, though, is that one of the options that is being strongly considered wouldn't affect the sidewalks at all. There would be small way-finding signs (~5 inch x 5 inch) that would be placed on existing traffic signs that would help people navigate the road sections between the traditional greenway that travels along the creek.
With respect to the issue of crossing Strickland, there are a couple of issues. The city is trying to locate the crossing in a place where there are already people crossing "unprotected". It's my understanding that kids from the school cross in this area already and that the city is trying to make that a bit safer. The other issue is that Strickland just has to be crossed at some place. The greenway advisory board took a field trip last week and saw how dangerous the current crossings at Six Forks and Falls of the Neuse are. Further, crossing at these intersections would then route the greenway along these busy roads that have lots of driveways and cross-streets. This isn't a route I'd feel safe taking myself, and definitely not with my family.
So the issue becomes how best to cross a dangerous road. The plan that's being proposed would put an island in the center of Strickland, so you'd only have to cross two lanes at a time. There would be cross-walks leading to the island and it would be located far-enough east on Strickland that the sight-line in either direction is maximized without making the crossing so far from the school that the kids wouldn't use it.
Thanks for your email and your participation in the process.
Some further responses… I think the questions I'm responding to are apparent based on my wording, but feel free to ask questions in the comments.
One of the reasons I'm in such strong support of this greenway is that there are very few safe north-south corridors in North Raleigh and none that cross 540. I'm not sure if you're aware, but the goal of the routing in your area is to cross under 540 at the tunnel that was built when the highway was established. The tunnel is located about 1/2 way between the Six Forks and Falls exits on 540.
In looking for the safest route for our area, there's no option that can be 100% traditional greenway. The city typically buys land along creeks and sewer lines to use as greenway. Strickland Rd. is a ridge – water flows away from it both north and south – so there was never land purchased that connects the two nearby creek-system-based areas. I agree that riding through the neighborhood isn't perfect, but I believe it to be the safest option. There are several other places in Raleigh where the greenway crosses through neighborhoods in a similar manner. The aim, of course, is to minimize these areas and get people on to the traditional trail.
With respect to crossing Strickland, I've actually felt pretty safe crossing South Wilmington Street where a greenway crosses south of downtown. It's a wider and busier road, so they *have* added a stop light at the pedestrian crossing.
I'm not sure where the info comes from about pedestrians crossing Strickland, but I've heard it addressed at several PRGAB meetings and it was mentioned to us when the board spent last Saturday touring the key areas affected by the greenway plan.