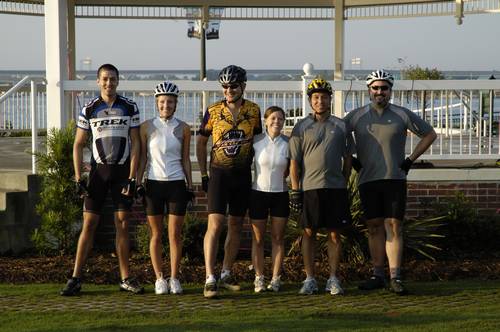 On Sept 9th and the 10th, I rode a total of 175 miles in the 2006 North Carolina MS150. 100 the first day, 75 more on the second. It was exhausting, but great fun.
Over 1500 riders turned out and raised over $1million for the Eastern NC MS Society. It was a great event — well organized, well-marked routes and lots of friendly volunteers. The weather was awesome. Our team did a great job of working together to finish as a group.
Over the course of two days, I spent about 10 hours in the saddle, plus another 2-3 hours worth of breaks mixed in. The roads were REALLY flat, so I averaged about a mile and hour faster than I usually do at home. The only downside of "really flat" is *no coasting*.
Above is a pic of me and some of my teammates (I'm on the right).
Day 1:
98.73mi
Total time: 7:39
Moving time: 5:41
Average speed: 17.4 mph
Day 2:
74.83mi
Total time: 5:08
Moving time: 4:12
Average speed: 17.8 mph